General Warehousing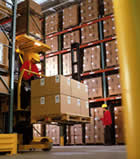 Aerona 3PL Warehousing, Storage and Distribution
Storage, order picking n' packing, dispatching
Aerona 3P Logistics & Fulfilment centre provide high-quality third-party logistics service for the benefit of any customer. 
Our warehouse, and Pick N Pack location is strategically and conveniently located offering a full range of facilities necessary to ensure fast, reliable and accurate logistic services. As a result of these excellent facilities, clients enjoy lower freight costs, same day shipping and greatly reduced levels of stress, worry and frustration.

What can we do for your company?
Our business is to keep your business moving upwards and growing. Offering you processes and facilities which allows you to concentrate on your business development and growth.
We support online retailers and established businesses who are looking to grow their business. Our services include storage, order picking, packing, shipping and returns processing. More specifically they include the following offers:
Public warehousing

Contract warehousing

Devan and loading facilities

Full Parcel loading facilities

Palletised shrink wrapping facilities

Order picking and packing facilities

Digital reporting and accounting

Real time customer inventory facilities

Excellent value, because you only pay for the space used.

Maintaining your stock inventory

Receiving and processing returns of unacceptable or damaged goods.

Delivering the order to the customer.

Using appropriate and cost-effective courier services
Our customer ranges from well established companies, eCommerce and start-ups, selling on eBay, Amazon, Spotify store, Play.com, Woo Commerce, and their own websites. Our services allow them to concentrate on growing their business, reduce costs, take away worries about storage, packing and shipping the goods from suppliers to customers on time.
Our specialist services include:
Break-Bulk

Inventory Management

Pick 'N' Pack

Monthly Inventories
Why Choose Us?
We are committed to helping your business grow. Our services are outstanding, reliable and tailored to your needs and requirements. We deliver success by helping e-commerce businesses to grow. We can help you too!
Our knowledge, experience and expertise in managing the complexities of fulfilment, means you don't have to worry.

We offer worldwide import and export freight service for you will be easy with our efficient networks of UK, European and international shipping services to all destination, for Air, Sea and Road Freight.

We can also provide you with customised fulfilment solutions.

E-commerce integration and automatization will make all your process more efficient.

Exceptional pick & pack service, protective and brand packaging to differentiate your products when they arrive at your customers services, safe and intact.
Our Customer Care Commitment
We take our responsibility very seriously in this regard to ensure our staff are trained to the highest standard and leaving our customers without worry.
As a result of our commitments to all our customers bold big and small or start-up, household names and new once. We offer our services as an extension of customers' businesses.
Our ability and commitments to provide excellent service level and go beyond the call of duty remains at the heart of our operations and everything we do.
Even in this day of advanced technology at our finger tips, our customers may find it necessary to speak to a member of our team, that's why you they have a dedicated and proactive accounts team to speak to, who will know about their goods and business.
Our teams' job is to ensure our customers goods are successfully delivered to the right address at the right time.
No but and no If's! 
Warehousing
Whether you require a short term or contract warehousing at Aerona 3PL we are flexible enough will be able to accommodate your business needs and requirements.
Our facilities provide flexibility to your business needs and help you reduce your infrastructure cost by making a single phone call to our team.
We are adaptable to short term requirements during your busy period or to expand your total storage space for the high demand months or scale back the space it uses the rest of the year. Aerona 3PL operates a modern fully secure and convenient racked warehousing and storage complex situated in the northwest of the UK. The entire warehouse operation is maintained through an interactive, barcode regulated, IT System which enables customers to monitor stock-levels and delivery schedules in real-time via our online job portal.
At any time, our customers can produce an array of reports including stock checks, stock movement, stock age and general overviews.
From receipt through to delivery, stock is monitored and catalogued using barcode reading hand-held scanners, which interact directly with the Warehouse System.
The entire system has helped Aerona 3PL accelerate the entire receiving and delivery process while better managing how goods are stored on-site. 
Devan and Loading
Our warehouse team of professionals have the skills and knowledge to unload and loading containers received at our facilities.
Our handling equipment handles inward and outbound goods from a single pallet to bulk-break and containerised goods. Palletised, shrink wrapped and labelled, ready to go out.
We can quickly and efficiently unload 20ft and 40ft containers and our team are experienced and expert at unloading up to 2200 cartons. In some cases, customers may require us to palletise the containerised boxes in certain order, colour, product size, or SKU which is sometimes referred to as "re-works". Our team are experts in doing this.
Once we have devanned your container and re-work it, it is then ready for the next stage in the supplier chain. The quick advantage of our service is that is very flexible, such as only partially delivery of the container to different places through the supply chain. 
Pick N Pack your goods through Aerona 3PL
This will involve taking orders from your existing stocks for packing and shipping out to the end customer. If you haven't integrated a pick and pack fulfilment solution into your logistics strategy, then today's the day to make a business-enhancing change! A pick and pack warehouse can increase efficiency overnight, customized packaging solutions, protective
Our system currently guaranteed 99.5% correct picking or your money back and we will pay for the cost of re-delivering the goods to your customer. In return you must provide us with correct name, address, post code and contact person.
Receiving your goods into our warehouse
Whether your goods arrive to us on a pallet, in a box or in a container, whichever, way it is, we will be glad to receive them and notify you of their safe arrival at our premises.
We can then send them out by repacking the items if required, with address checks for delivery making sure it reaches your customers on time and secured.
Our staffs are highly trained and knowledgeable in picking accurate and first time. 
Secure and warehousing your goods
Our warehouse facilities are secured, gated, and protected with the latest fire and security systems with camera to give you, our customers peace of mind.
Our staff are trained to give you peace of mind and the very best service possible to ensure the same mistakes are not repeated.
We are located near the motorway of M60 and M56 easy access for the North, South, West and East of Northern England.
Stock picking and control management
Controlling and maintaining stock control is very important to our customers.
Our system allows us to collaborate with you our customers to monitor your stock order level in line with your sales circles during the busy and quiet period to match each of our customer's stock circle.
We are located near the motorway of M60 and M56 easy access for the North, South, West and East of Northern England.
Break Bulk
This is where we receive your goods from your suppliers and then ship them individual customer base on the requirement. We will sort and splits the individual orders and arrange for local delivery. 
Monthly Inventory
This will allow you to avoid dead stock, save on storage cost which is often happens to difficult selling stocks, increasing your storage cost. Avoiding this will save you money, helping with your cashflow. 
Pallet Distribution
Our services include pallet freight distribution through our network of reliable and award-winning partners.They provide reliable on-time delivery through precise planning; maximise economic efficiency with the use of hub and bespoke distribution strategy and are able to transport considerable quantities by harnessing their large fleet.
Delivering nationwide, and to 28 countries throughout Europe, our partners fast, reliable and cost-effective service can be tailored to cover all your logistical needs.

Fast – Distribution hub and bespoke delivery model guarantees a fast delivery across UK, and Ireland.
Cost Effective – 48/72-hour economic delivery is available throughout UK, and Ireland.
Reliable – Trace and track system allows our customers to stay updated on every step of the delivery process.
24 Hour Delivery Service – Consolidated Pallet delivery service, which allow our customer to deliver to any major city in the UK within 24 hours.
European Delivery – Delivery to 28 countries throughout Europe, including Baku, Kazakhstan, Russia and the Middle East.
Thanks to our extensive experience that has been gained over many years in satisfying a vast variety of customer needs - probably like your own - we are confident that we can help you achieve your business goals. Our warehouse facilities save you money, helping you to avoid needless inventory and complex handling that is outside your core business.
Call 0161 652 3443 for a discussion on your 3PL requirements.