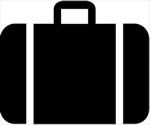 CARRYING MERCHANDISE IN BAGGAGE?
We can stop you getting carried away!
Merchandise in Baggage (MIB) is the term applied to goods that are not in free circulation within the EU being carried through a customs point.
The term can also apply to goods that are in free circulation prior to export.
MIB goods are generally carried as accompanied baggage or in private vehicles for trade or business use.  Depending on the reasons for the journey, whether they are a temporary or permanent import/export, or merely in transit, the rules state that they may be liable to customs charges and failure to declare them at the Red Point of Entry could result in seizure and/or a fine.


MIB merchandise typically includes:
•   Goods acquired for your company
•   Goods for sale
•   Spare parts and accessories
•   Trade samples 


Thanks to our many years of experience in all aspects of import/export and customs clearance, and as part of our Gold Star customer service and support, we can provide valuable advice that could help you prevent unwanted goods forfeiture or penalties.

Why not speak to one of our friendly, knowledgeable team.  One simple phone call could save you a lot of hassle … and money. 


For free, friendly advice, please

contact us

.