Oversized Cargo
A weight off your mind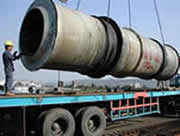 Aerona Air & Sea Customs Clearing Agents provides specialist cargo transport services designed to meet the weighty needs of shippers, manufacturers, importers and exporters of heavy and out of gauge equipment.
Our outstanding experience in the management of integrated project logistics has given us unique skills that are particularly appropriate to the Mining, Petrochemical, and Engineering industries, plus those Procurements and Construction companies servicing the energy, mining, chemical and pipelines infrastructure, together with other similar sectors.
At Aerona Air & Sea Customs Clearing Agents we work with various customers from many different industrial sectors, which has enabled us to develop bespoke solutions for each specific consignment.
Every project has its own peculiar demands when designing a carefully planned transport process that has to be coordinated with detailed route planning. 
We have the experience, knowledge and expertise, which means the solution you're seeking for the lifting of your next out of gauge shipment from origin to destination … is only one phone call away.