We can manage all your Transportation Needs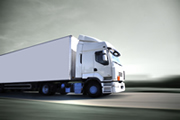 Our diverse and extremely varied client base probably includes organizations whose needs are similar to those of your company.  Like yourselves they require efficient movement of their goods along with meticulous documentation and attention to detail to eliminate delays and expedite delivery … that is on time every time.
Through our long-standing relationships with a number of specialist haulage, and courier transport companies throughout the UK, we can arrange the transportation for your cargo to their destinations, safely and timely … and almost certainly at a more preferential rate than you as an individual can obtain.